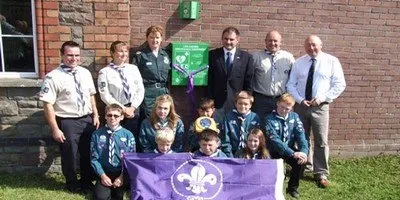 Without immediate defibrillation and CPR when cardiac arrest occurs, the chances of survival are less than 5%. With a defibrillator being used on a patient the odds of survival can be increased to 50%.
A HeartSafe® community is established when a group of people decide that they wish to reduce the odds of dying or not recovering fully from a cardiac arrest by installing an Automated External Defibrillator (AED) in a public place thereby giving 24-hour access to this life-saving equipment.
AED Locator promotes the placement of AEDs outdoors, in public places. PADs (Public Access Defibrillators) provide 24-hour access so that emergency life-saving equipment is available to everyone whenever it is needed. AEDs are housed in secure, weatherproof, heated cabinets on the exterior walls of buildings such as Post Offices, village halls, schools, Inns, sports centres etc. and other visible locations in the community. 
Give your Cabinet Maximum Visibility!
An overhanging sign might be appropriate above the cabinet to increase its visibility. Signage could be placed around the locality identifying the location of the AED, for example, posters in shop windows with directions to the cabinet.The Department of Health and the NHS support the Restart the Heart campaign and AED placements in the community.
Mapping of your AED – we can upload your community's AED to this website so that all AEDs are visible, monitored and can be tracked by anyone travelling or simply need to know where their nearest life-saving AED is located. This means that life-saving equipment will be available to the public each minute of every hour of each day of the year.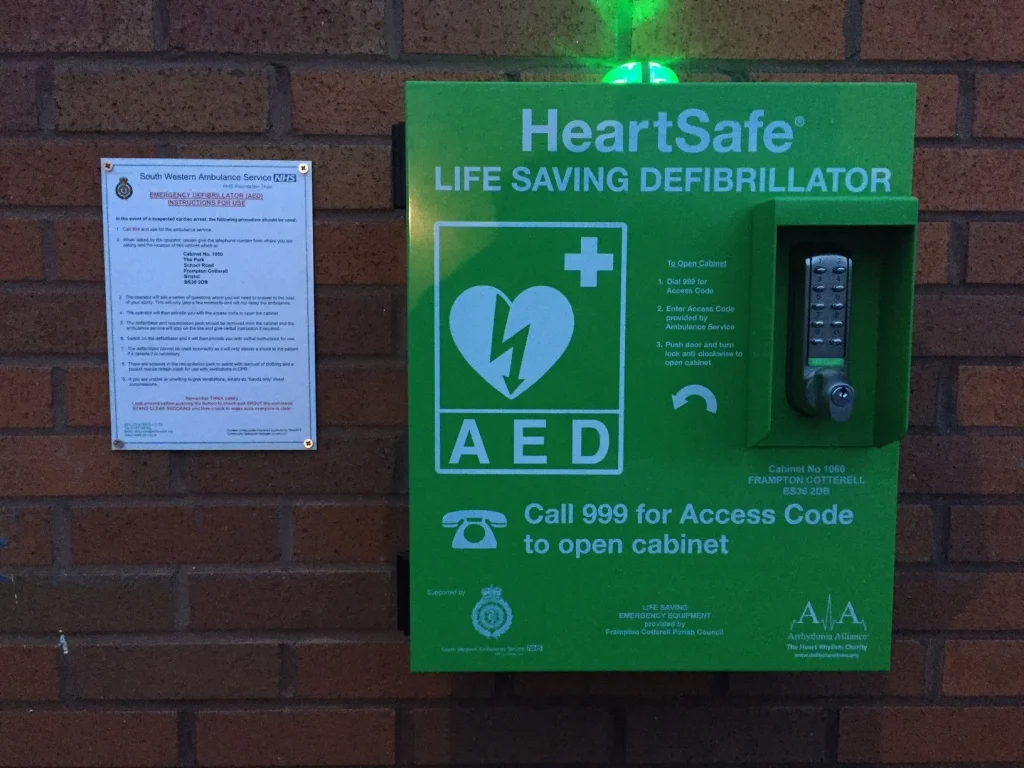 Promote PADs in your Community!
Villages and rural locations
Towns
Cities
Unusual sites (i.e. telephone box, Coastguard Lookout)
Villages and Rural Locations
Despite every effort and endeavour by ambulance paramedics, some emergency calls can take more than 10 minutes to arrive at an incident.
Rural communities and Villages are at greater risk when cardiac arrest occurs. Every effort is made to arrive at an incident within the Government recommended timescales of 8 minutes. When a cardiac arrest occurs every minute without the use of an AED can reduce chance of survival by 10%. When 10 minutes approaches, only effective CPR may prolong the chance of survival of the patient.
When a cardiac arrest occurs out of hospital the most likely place for it to happen is at home between midnight and 7am. The bedroom or bathroom is the likely place it occurs. Lay people are likely to obtain the AED and use it. The AED will only shock a patient if a shockable arrhythmia is detected. This may be approximately 50% of the time. If no arrhythmia is found, you must carry out CPR, to manually pump the patient's heart until professional help arrives.
The quality of CPR generally is very poor. 70% of people who give it, including trained personnel, do so ineffectively, see link to Resuscitation Council link here.
Do not depend on someone's memory of how CPR is performed having watched Casualty or the Vinnie Jones CPR Heart Advert, ensure you have the right type of defibrillator that gives you feedback as to the quality of CPR you are administering. In our view, the HeartSine Samaritan® PAD 500P is the best choice of defibrillator due to its unique patented impedance cardiogram.
Contact us to discuss your individual requirements – ensure you make the right decision. We are confident HeartSafe® will be the choice you make. Advanced technology with use of an Automated External Defibrillator (AED) and good CPR can save a life.
Statement from: The Resuscitation Council (UK)
"It is the view of the Resuscitation Council (UK) that the use of AEDs should not be restricted to trained personnel. Furthermore, the Resuscitation Council (UK) considers that it is inappropriate to display notices to the effect that only trained personnel should use the devices, or to restrict their use in other ways. Such restrictions are against the interests of victims of cardiac arrest and discourage the greater use of AEDs by members of the public who may be able to preserve life and assist victims of cardiac arrest." Click here to find out more.
Do not be satisfied in using any defibrillator. If you have a choice, and you are intending to invest for your community, research the benefits of an AED that provides live CPR feedback – see our recommended HeartSafe® package.
Rural communities are now taking steps to help provide another layer of "insurance" to increase the odds of survival. A small investment in ensuring your village and community becomes HeartSafe® may prevent an unnecessary life being lost.